Finding the Perfect Rusty Metal Sign for Your Home or Business
When it comes to adding a touch of timeless charm to your home or making a statement at your business, few things compare to the rustic allure of a rusty metal sign. It's a symbol of character and durability that instantly catches the eye. If you're on the hunt for the perfect rusty metal sign, you've come to the right place. At Rees Metal Designs, we don't just offer rustic metal signs; we create custom laser-cut signs that tell your unique story.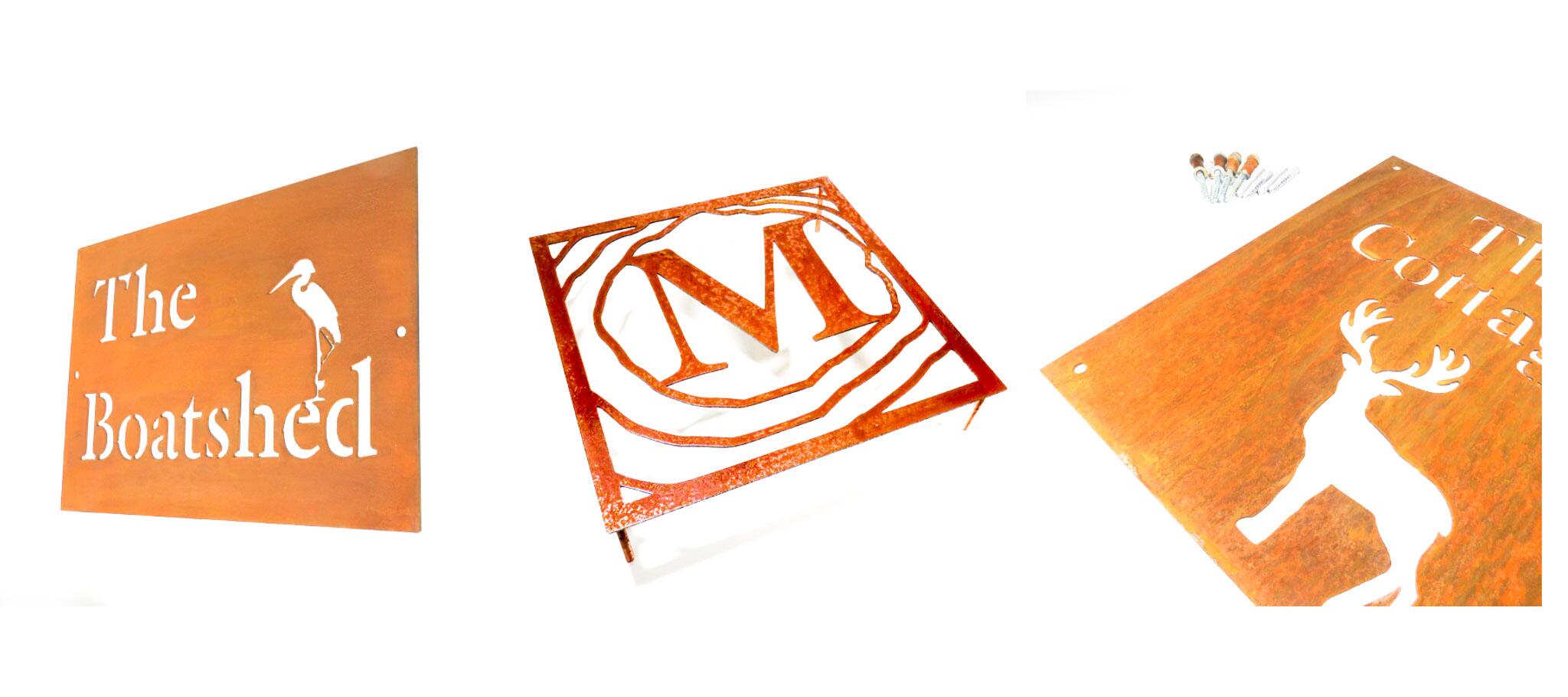 **The Irresistible Appeal of Rusty Metal Signs**
Rusty metal signs have an allure that's hard to resist. They offer an aesthetic that marries the nostalgia of the past with industrial charm. Here's what makes them so captivating:
1. **Timeless Beauty**: Rusty metal signs combine timeless aesthetics with a rugged, industrial edge. They effortlessly fit into a range of settings, whether you have a classic home or a modern business.
2. **Durability**: That rusty patina isn't just for show – it's a protective layer. Materials like Corten steel create a rusted barrier that prevents further corrosion. This means that your rusty metal sign is built to endure the test of time.
3. **Customisation**: At Rees Metal Designs, we understand that a truly special sign should reflect your individual style. We offer a range of customization options to ensure your sign is a personal statement.
**Why Rees Metal Designs for Your Rusty Metal Sign?**
We believe that the best way to find the perfect rusty metal sign for your home or business is to design it from scratch. Here's why Rees Metal Designs is the ideal choice:
1. **Professional Designers**: Our talented design team collaborates with you to create a sign that aligns perfectly with your vision. Explore various fonts, styles, and themes to achieve the exact look you desire.
2. **Customisation**: We offer a vast array of customisation options. Choose the metal that suits your preferences, select the ideal size, and let us bring your unique design to life.
3. **Durable Materials**: We use high-quality materials, including Corten steel, to craft signs that are built to last. Our signs are more than just decorative; they're a long-lasting piece of art that can stand up to the elements.
4. **Endless Possibilities**: Our state-of-the-art laser cutting technology allows for intricate and precise designs. Your options are limitless, from intricate patterns to elegant script fonts.
**Where Can You Find Your Perfect Rusty Metal Sign?**
Now that you've discovered Rees Metal Designs, you can finally find the ideal rusty metal sign that complements your style and character. We specialise in crafting signs that tell a unique story and make a statement.

Whether you're looking to redefine your home's curb appeal or enhance your business's branding, Rees Metal Designs has the solution. Our signs are more than just markers; they're conversation starters and pieces of art that capture your individuality.
Embrace the charm of rusty metal signs and choose Rees Metal Designs to create a sign that sets you apart. Your story deserves to be told through the timeless appeal of a rusty metal sign. Make your statement today!